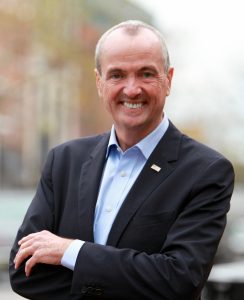 New Jersey is distributing $112 million in federal coronavirus-related economic aid and has earmarked $35 million for the state's struggling restaurant and bar industry.
Gov. Phil Murphy announced the funding at a news conference held at a brewery, Flounder Brewing Co., in Hillsborough on Tuesday. In addition to helping the food-service industry, portions of the money will go toward rent relief for tenants and to help so-called microbusinesses, according to Murphy.
"We're ready to help businesses like Flounder Brewing not just get through this unprecedented time, but emerge primed and ready for growth," the governor said.
New Jersey, once of of the U.S. epicenters of the COVID-19 outbreak, only topped by New York in terms of confirmed cases, still has relatively strict regulations in place for restaurants and taverns. Outdoor dining and takeout and delivery are permitted, but restaurants can only offer indoor dining at 25% capacity. As the weather gets colder, too frosty for alfresco dining, eateries already struggling financially fear they won't survive.
"We appreciate the new grant program," Marilou Halvorsen, president and CEO of the New Jersey Restaurant and Hospitality Association, said in an email. "The restaurant industry has been devastated and needs funding quickly. We are anxious to see the particulars on the program and eligibility requirements."
The bulk, $70 million, of the state's latest coronavirus aid will be distributed to restaurants, micro-businesses and other enterprises through phase three of the New Jersey Economic Development Authority's emergency grant program for small businesses, Murphy said.
Help for the Smallest of Businesses
The EDA launched that program in early April, and to date over 19,000 small businesses have benefited. The program's third stage expands its eligibility to any business with 50 or fewer full-time employees and increases the amount of funding businesses can receive.
"To ensure funds flow to businesses that need them most,
includes set-asides for grants to restaurants and micro-businesses," according to the governor's office.
So $35 million will be dedicated to support food-and-beverage establishments and $15 million will be directed to support micro-businesses that have five or fewer employees. The remaining $20 million of the $70 million will be available to support any eligible business.
In line with Murphy's commitment to a fairer recovery, his office said one third of each of those pools of will be directed to support entities located in census tracts designated as federal "opportunity zones" meant to encourage development by deferring or eliminating capital gains taxes for investors.
An additional $10 million in funding will be used to help small businesses purchase personal protective equipment through an EDA program; $15 million will go to support renters through the state Department of Community Affairs; and $5 million will support food banks and other hunger-relief efforts.
The news conferences speakers included U.S. Sen. Bob Menendez, Congressman Tom Malinowski, Lt. Governor Sheila Oliver and state Senate President Steve Sweeney.
"Small businesses are the backbone of our economy and critical to the vitality and quality of life in our downtowns," Sweeney said in a statement.
Aid for Renters
The rent-relief funding will be administered by the Department of Community Affairs, which has a program to reduce the burden renters impacted by COVID-19 face by paying landlords directly for up to six months. The funding just announced will cover rent incurred from Aug. 1 through Dec. 30. Payments per household will depend on a variety of factors such as location, rental market, family size, and average per-household income.
Last week, the state Department of Human Services unveiled a new housing assistance program that will use $12 million in federal coronavirus relief to provide rental or mortgage assistance payments on behalf of eligible households that have suffered a financial hardship due to COVID-19.
The Garden State was awarded $2.4 billion in federal funding in April. The $100 million announced Tuesday will supplement the $115 million in federal funds already allocated for economic development and reemployment programs, and the $100 million allocated for housing-assistance programs.
For more information about New Jersey commercial properties for sale or lease, please contact WCRE at 856-857-6300.
Wolf Commercial Real Estate, a full-service CORFAC International brokerage and advisory firm, is a premier New Jersey commercial real estate broker that provides a full range of New Jersey commercial real estate listings and services, property management services, and marketing commercial offices, medical properties, industrial properties, land properties, retail buildings and other New Jersey commercial properties for buyers, tenants, investors and sellers.
Please visit our websites for a full listing of New Jersey commercial properties for lease or sale through our New Jersey commercial real estate brokerage firm.